Bonus Without Deposit

Rules of Poker

Strategy Articles

Poker Gadgets


Beftred Poker Bonus $150 Free

The Bankrollmob gives you $ 150 to play at Betfred Poker!
The Bankrollmob brings us another bonus without depositing to play poker online this summer, this time with $ 150 free to play in Beftred Poker! The first $ 10 are given instantly, then you will receive more $ 10 when you reach 100 points and more $ 130 when you reach 5000 points.
Betfred was founded by Fred Done, the owner of the brand, the largest bookmaker in the UK with 800 bookmakers all over the UK. As an online poker room Betfred start their business in 2005, operating on the iPoker network since then, who does not know very well the Betfred here have an opportunity to get to known it better with this bonus of $ 150 free!
Elegible countries for this bonus: Australia, Austria, Canada, Croatia, Faroe Islands, Finland, Germany, Hungary, Iceland, Liechtenstein, Luxembourg, Netherlands, Norway, Poland, Portugal, Romania, Russian Federation, Serbia and Montenegro, Slovenia, Sweden, Switzerland and the United Kingdom.

Tutorial Betfred Poker $ 150 Free without deposit

To get this bonus just follow this tutorial and in 20 steps you will get your bonus without deposit at Betfred Poker!
1.Click here to go to Bankrollmob web page.
2.When you´re in Bankrollmob page click in "
register

" as you see in the image.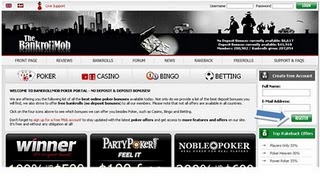 3.Now fill the form put the number code and click on "
continue

".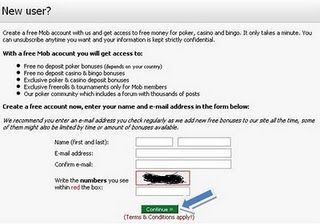 4.Fill the rest of your data in this new page..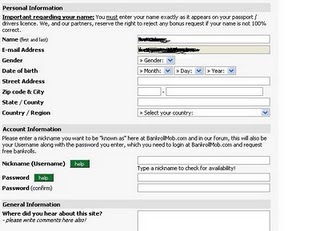 5.Now you will have to make I.D. verification trought a phone call, if you want to ask for the Titan Bonus you will also have to make I.D. verification trough driver's licence, to the rest of the bonus the phone verification it´s enough.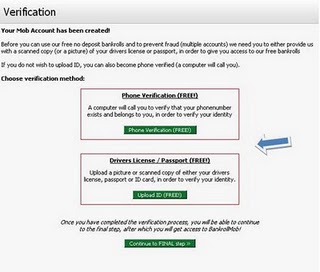 6.Insert your number and then click in "
proceed

" as you see in the image. When the phone rings answer it, there will be an automated message telling you a number code, write it down, the number will be repeated 2 times!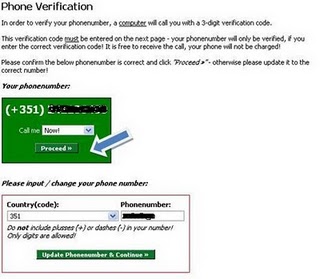 7.After that click on "
continue to final step"

.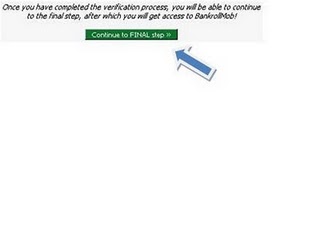 8.Now go to your email account, there you will have an email from bankrollmob open it and click on the confirmation link!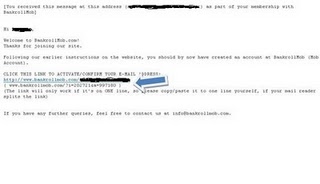 9.After this 8 steps you will have to wait 24 hours to your account activation, then you can go to step 10 and ask for your bonus, after you receive an email like this you´re good to go!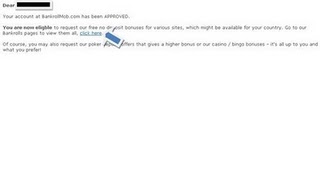 10.Now in the Bankrollmob page make login and then click in "
Bankrolls

".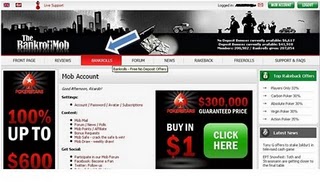 11.In the "
Bankroll Filter

" click on Bonus:"

No deposit

" and Site:"

Poker

", and in the sixth on the list where it says Betfred Poker click on "

info

" as you see in the image. Here you can choose any other bonus or all of them if you want!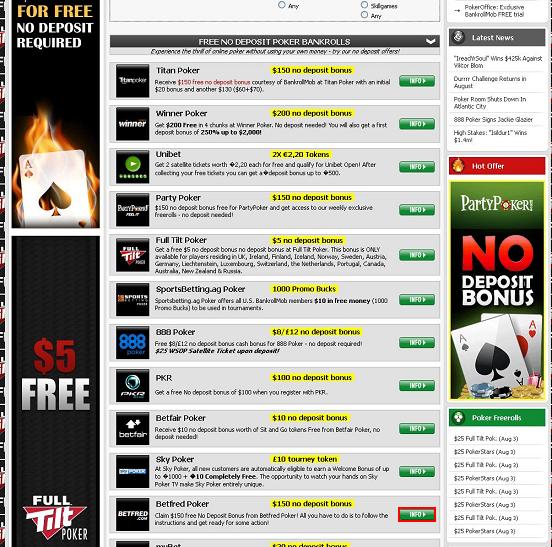 12.After that click in "
Get Bonus

".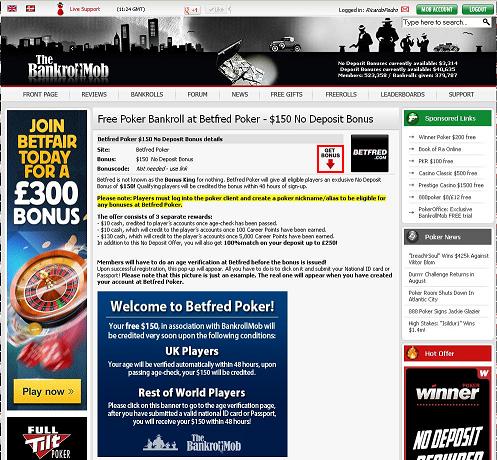 13.And next on "
Request

".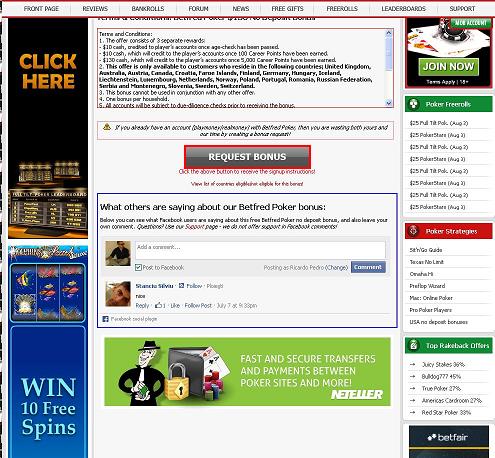 14.Now click on "
CLICK HERE

" as you see in the image to go to the page of Betfred Poker .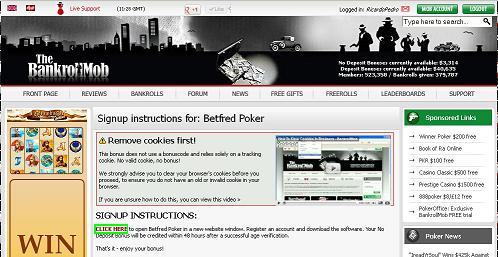 15. Then click on "
Download Now

".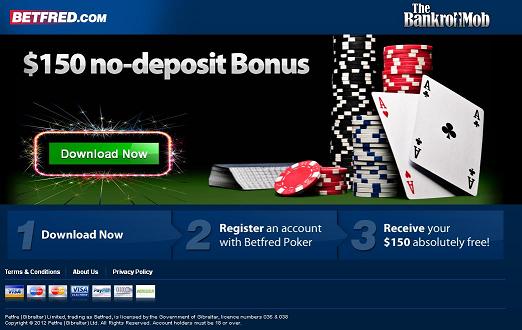 16. And click again on "
Download Now

" to download the software installation file of Betfred Poker.

17. Now click on "
Next

" and follow the subsequent steps as shown in the images below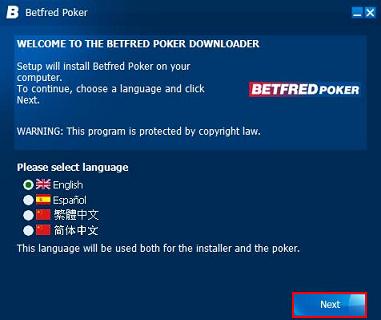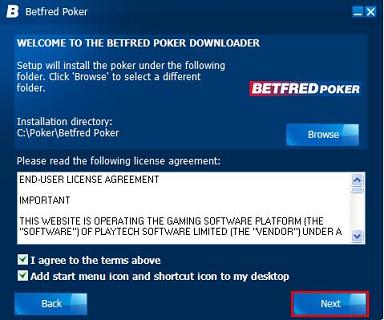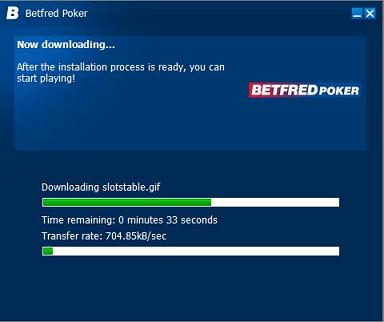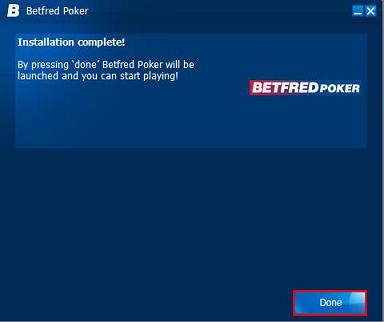 18. Now with Betfred Poker lobby open click on "
Create Account

".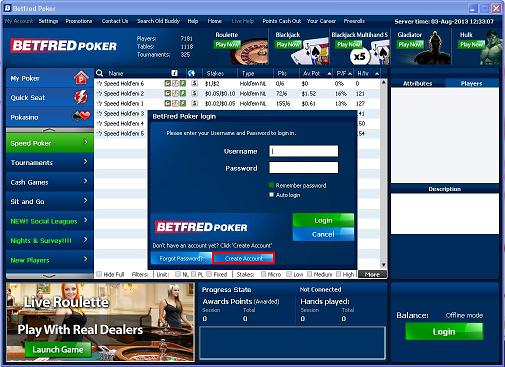 19.Fill the form with your data and at the end click on "
Register

".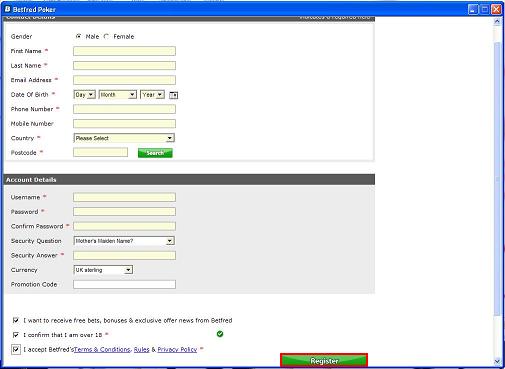 20. Now in order to receive the bonus you must submit an identy proof to assure that you have more than 18 years old, to do that you will have to go to this page and upload your identification by clicking on "
Submit

".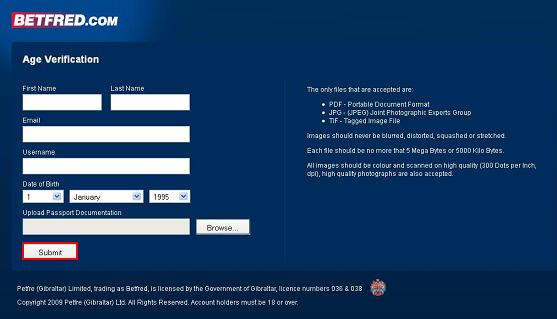 If you have any doubt send an email in English, Portuguese or Spanish to bonusdepokergratis@yahoo.com .